HondaJet Cost in 2024:

A Breakdown of

Ownership and Charter

Options
Nov 18, 2023
Add a header to begin generating the table of contents
HondaJet is one name that's soaring higher and faster than every other model in the Very Light Jet (VLJ) class. Whether you fall in love with this aircraft for its innovative exterior design or unparalleled interior comforts, the luxury HondaJet price helps make it easy to turn your private jet dreams into a reality.
Whether you're a frequent flier or fresh to the private jet experience, step aboard as we dive into the HondaJet price, from an ownership perspective to chartering and beyond. However you plan to take off, this guide to pricing, performance, and features is for you.
HondaJet Performance & Specs
The HondaJet is the best-selling Very Light Jet (VLJ) on the market, and for good reason. It's the perfect starter jet that, while small, doesn't skimp on performance or top-of-the-line interior touches.
Initially developed in 2003 and released to the public in 2015 after receiving its FAA certification, Honda has completely reimagined what a jet of this size could mean.
An innovative Over-the-Wing Engine Mount design, paired with a Natural Laminar Flow Design, makes the cabin ultra-quiet and the ride incredibly smooth. All the while, these designs help this jet achieve a few significant performance markers.
First, it has the longest range in its class, capable of hitting a max range of 1,547 nm (2865 km) under optimal conditions. Translated to flight time, the HondaJet can travel approximately three hours nonstop.
Second are its speed and altitude specs. It is also the fastest and highest-flying VLJ available. This aircraft's max speed is 422 knots (782 km/h), and its max cruising altitude is 43,000 ft (13,106 m). Pair that with an incredible fuel economy, and it's easy to see why many owners have fallen in love with this jet.
HondaJet Elite II Specifications
Speed
422 kts (782 km/h)
Range
1547 nm (2865 km)
Passenger Capacity
4 to 5
Crew Capacity
2
Baggage Capacity
62 cubic ft. (combined)
Performance Features
Over-the-Wing Engine Mount Noise Attenuating Inlets Composite fuselage
Avionics
Customized Garmin G3000 avionics suite
FAA Data Comm system
ACARS capability
Enhanced nose wheel steering
Automated anti-ice, lighting, and pressurization systems
Emergency autoland system
Stabilized approach system
Garmin® Autoland emergency control system
Autothrottle power management system
Interior Features
Bongiovi aviation sound system
4 adjustable leather executive seats
Fully enclosed lavatory
Optional galley
HondaJet Models and Price
In only a few short years, Honda has quickly taken over the VLJ global marketplace, becoming the best-selling jet in its class. But since 2015, the company has not stopped innovating, releasing a new upgrade to the original legacy model (the HA-420) every few years.
Plus, with every upgrade comes enhanced safety features, advances in avionics and technology, and performance improvements. All of this has been reflected in gradual price increases. It's why today, you'll find the HondaJet Elite S price is lower than a brand new Elite II. Newer models come with newer technologies.
HA-420
Elite
Elite S
Elite II
Year of Release
1223 nm (2265 km)
1,437 nm (2,661 km)
1,437 nm (2,661 km)
1547 nm (2865 km)
Speed
422 kts (782 km/h)
422 kts (782 km/h)
422 kts (782 km/h)
422 kts (782 km/h)
Features
• Over-the-Wing Engine Mount
• Composite fuselage
• Customized Garmin G3000 avionics system
• Noise Attenuating Inlets
• Customized Garmin G3000 avionics suite
• Bongiovi aviation sound system
• 17 percent range increase over HondaJet HA-420
• Noise Attenuating Inlets
• FAA Data Comm system
• ACARS capability
• Enhanced nose wheel steering
• Increased takeoff weight
• Improved aerodynamics
• Increased fuel capacity
• Increased gross weight capacity
• Autothrottles
• Garmin emergency autoland
Price Range*
$2,000,000 and up
$3,500,000 and up
$4,500,000 and up
$7,200,000
* Prices were a snapshot of the pre-owned market at the time of writing.
Features and Amenities
Step inside a HondaJet, and you'll find an interior that is comfortable, ultra-quiet, and kitted out with all the latest in-flight amenities you'll ever need.
First, the cabin has 20 percent more space than the competition. With over seven feet of space between the four club seats, you can really stretch out as you travel between destinations. Each plush executive seat is fully adjustable to maximize your comfort.
Between each set of club seats, you'll find a large, fold-out table suitable for work or pleasure. Not sitting down for an in-flight meal? The table retracts into a compact cocktail sidebar or completely folds away.
HondaJet also features an immersive audio experience thanks to the Bongiovi Aviation Sound System. Gone are the days of annoying speaker vibrations; instead, you'll experience pristine sound quality, thanks to discreetly integrated technology fitting into the walls.
Depending on the interior layout, many HondaJets also have a small galley, ideal for in-flight catering, drinks, and refreshments. Alternatively, the space may be transformed to offer extra passenger space.
Finally, what really sets the HondaJet apart from other VLJs is the fully enclosed lavatory. This isn't what you've come to expect from most airplane amenities. Far from the dimly lit claustrophobic spaces on commercial jets, the bathroom is brightly lit and spacious, featuring a unique ceiling skylight. Additionally, servicing the lavatory from the exterior ensures streamlined flight operations and enhances convenience for passengers.
Factors Influencing HondaJet Pricing
Aircraft Model
You'll frequently see this jet referred to only as a "HondaJet," but technically speaking, there are now four different models: HA-420, Elite, Elite S, and Elite II. Each model may come from the same foundation but is a progressive evolution of the avionics, performance specs, and interior features.
Year of Manufacture
Related, in part, to the model is the year of manufacture. It should come as no surprise that an aircraft's age directly impacts the going market rate. Even if the original model, the HA-420, is technically less than a decade old (first certified by the FAA in 2015), the jet's sticker price will increase with its year of manufacture.
Avionics and Technology
The newer the model, the more advances you'll find in the cockpit. With every model upgrade Honda has released, starting with the Elite in 2018, there have come significant updates to the technology in the hands of the pilots.
The price of older models reflects the status of the avionics upgrades. A fully upgraded HondaJet Elite II now contains the following tech:
Customized Garmin G3000 avionics suite
FAA Data Comm system
ACARS capability
Enhanced nose wheel steering
Automated anti-ice, lighting, and pressurization systems
Emergency autoland system
Stabilized approach system
Garmin® Autoland emergency control system
Autothrottle power management system
Interior Customization
Packed inside the HondaJet cabin is space for four to five passengers plus, often, a small galley and/or a fully enclosed lavatory. Beyond the lavish interior layout and features available factory direct, many owners complete after-market customizations through an aircraft interior design service. Naturally, cabin amenities and interior upgrades can all impact price.
Maintenance and Service History
For those digging into HondaJet prices on the preowned market, maintenance and service history will always come into play. The mechanical state of the aircraft will have a direct impact on the listed price.
Have the previous owners (or management company) kept the jet up-to-date with its inspections? Is there an unbroken maintenance record across all owners? Especially because Honda offers optional upgrades with each release of their avionics tech stack, upgrade records will also be a critical point to note during negotiations.
Market Demand and Availability
Since its release in 2015, Honda's aircraft have regularly achieved the "most delivered aircraft in its class" accolade. By the time 2022 rolled around, it had hit this milestone for a fifth consecutive year with more than 200 jets in the sky, clocking up 100,000 flight hours.
The HondaJet is in demand and tends to keep its value even on the used market. The good news? Honda has no plans on slowing down and plans to keep this jet in its production schedule.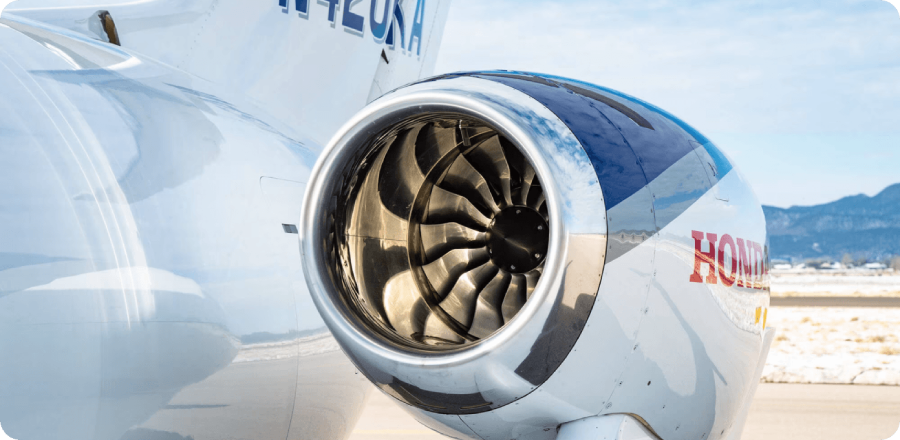 HondaJet Cost: Ownership vs. Fractional vs. Charter vs. Jet Card
Of course, outright ownership isn't the only possibility if you have a HondaJet in your sights. Fractional ownership programs, jet cards, and chartering are all ways to experience a HondaJet without the financial Investment required for ownership.
Depending on your circumstances, travel lifestyle, business needs, and administrative capacity, there are advantages and disadvantages to each approach. Let's break them down, including cost estimations.
Ownership
Ownership is the most expensive option, but it obviously comes with the most perks. You'll lock in the freedom to travel where and when you want, often with a moment's notice. You maintain the exclusive use of your jet and are guaranteed the utmost discretion over your travel plans.
But you will be responsible for all maintenance, storage, inspections, and insurance costs. Whether you hand this off to an aircraft management company or wrangle it yourself, it is the cost of doing business. When your jet is out for repairs or scheduled maintenance tasks, you must make other travel arrangements.
Upfront Investment: $7.2 million
Operational Costs: $2,000 per hour
Fixed Costs: $350,000 and up
*For estimation purposes only
Fractional Ownership
Balancing freedom with cost savings, fractional ownership begets a private jet-set lifestyle but at a fraction of the cost of full ownership. Fractional ownership is sold in shares of a craft, usually starting around 1/16th of a share, and the management of the jet is taken on by an aircraft management company — like Volato.
Fractional ownership starts with a substantially lower upfront investment, but the management company ensures the aircraft is maintained, inspected, and staffed. Certain companies will limit your annual flight hours to the share you've purchased, but at Volato, we are the only program that offers unlimited hours and a revenue share — no matter your share size.
Upfront Investment: $549,000
Operational Costs: $4,200 per hour
Fixed Costs: $71,400 ($5,950 per month)
*For estimation purposes only and based on a 1/16th share purchased in Q4 2023, subject to change.
Jet Card
Jet ownership, whether fractional or otherwise, isn't for everyone. Not everyone has the capacity or desire to take on the management and administration of a jet — even if they fly dozens of times a year.
Jet cards are an alternative to lower occupied hourly fees but without the jet management burden. A jet card is a prepaid block of time or deposit for future flights. The card locks in a preferred occupied hourly fee and additional benefits, and cardholders book as they would a charter.
Volato's Insider Program is a simple draw-down deposit membership locking in capped rates on high-traffic routes and the lowest dynamic rate across the US — all on our fleet of HondaJets. The benefit? There are no blackout days, no repositioning fees, and no monthly management fees. Fly when you want, and if you change your mind — the balance is 100% refundable.
Upfront Investment: $50,000 and up
Operational Costs: N/A
Fixed Costs: N/A
*For estimation purposes only and based on a $50,000 Insider Program deposit.
Charter
For those who fly a handful of times a year or are only beginning to dabble in the private jet lifestyle, chartering is often the best place to start.
The HondaJet cost per hour may be slightly greater than a jet card or fractional ownership model, but as a charter passenger, you are not responsible for any of the fixed costs (including hangarage, maintenance, insurance, etc.). You are also not responsible for repositioning, airport handling, and other incidentals.
With chartering, you'll have to book ahead more than you would under an ownership model, but you'll also get the flexibility to choose a jet that suits the mission.
Upfront Investment: NA
Operational Costs: $6,000 to $7,000 per hour
Fixed Costs: NA
*For estimation purposes only and based on approximate per occupied hourly fee
| | Ownership | Fractional Ownership | Insider Program | Charter |
| --- | --- | --- | --- | --- |
| Initial Cost | High (full purchase price) | Lower (fraction of jet cost) | Lower (paid by deposit) | Lowest (paid per trip) |
| Equity | Full equity in the jet | Partial equity | No equity | No equity |
| Availability | Always available | Guaranteed with notice | Often guaranteed with notice | Based on market availability |
| Maintenance | Full control over maintenance | Maintenance managed by program | No maintenance concerns | No maintenance concerns |
| Resale Value | Potential to recoup costs | Share can be sold | No resale (it's a service) | No resale (it's a service) |
| Commitment | Long-term | Medium-term (contract-based) | Remaining balance 100% refundable | Per trip |
| Operating Costs | Fully borne by owner | Shared among owners, rolled into monthly fee | Included in membership price | Included in charter price |
| Depreciation | Full depreciation risk (may be offset with tax benefits) | Shared depreciation risk (may be offset with tax benefits) | No depreciation concerns | No depreciation concerns |
| Flexibility | Limited to one jet but full flexible schedule | Access to fleet | Access to various aircraft | Access to various aircraft |
| Management | Owner handles or hires staff | Managed by aircraft management company | Managed by Operator | Managed by Operator |
| Commitment | Hard to liquidate quickly | Contractual commitment | No long-term commitment | No long-term commitment |
HondaJet Operating Cost
When you own an aircraft, the annual operational costs align closely with your flight hours. The more you fly, the more it costs. However, accurate estimates are difficult because certain expenses, like fuel, crew, and location, impact the price.
The operational costs for an outright owner (who doesn't work through an aircraft management company) start at $200,000 annually for 200 flight hours. If you are a jet-setter, expecting to fly 400 hours a year, those operational costs could increase to more than $500,000.
Fractional owners save by sharing many of these costs with other owners. While it still depends on how often you fly, the fractional ownership model lets you share recurring expenses like crew salaries, maintenance, inspections, and other standard charges among multiple owners. Yes, fuel fluctuations and location will still impact your hourly costs, but many costs are evenly divided.
Ready to Step Inside? Experience a HondaJet with Volato
If you are ready to experience the freedom that private jet travel allows, we'd love to put you on a mission with our national fleet of HondaJets.
From a quick hop on a HondaJet charter flight to the Insider membership program or the benefits of fractional ownership, at Volato, we've got options.
Experience the HondaJet Lifestyle—book one for your next mission with Volato.
FAQs
Is it expensive to maintain a private jet?
Vehicles of all types require regular maintenance and inspections, and a HondaJet is no different. Under a fractional ownership model, an aircraft management company like Volato takes over the responsibility, rolling all costs into a regular and predictable monthly fee.
How much does it cost to operate a HondaJet Elite?
As an owner, your operational costs are directly related to the amount you fly, and, as always, many of the costs fluctuate throughout the year, including fuel.
Do you need two pilots to fly a HondaJet?
For the jet owner who also has a pilot's license, the HondaJet is beloved because it is single-pilot friendly. As Aviation Weekly reported, "The HondaJet's careful design, good manners, and state-of-the-art automation have made it an attractive choice for entrepreneurial pilots who choose to fly it alone."
But, if you aren't the pilot in the cockpit, you'll generally see two pilots taking control of the craft. This is the case with each Volato charter flight, no matter the arrangement. Two pilots in the cockpit inherently make every flight safer.
HondaJet Cost Makes it the Perfect Place to Start
The HondaJet offers the ideal balance of performance, luxury, and design. With its impressive specs, state-of-the-art avionics, and unmatched interior comforts, the HondaJet is completely reimagining what's possible in a VLJ. It is small but mighty no matter which way you cut it.
If you are weighing your options between full ownership, fractional ownership, an Insider membership, or a charter, there's a HondaJet experience tailored to fit your unique travel needs. From seasoned jet-setters to those just starting to live the private jet life, the HondaJet promises a travel experience like no other.
Ready to experience a HondaJet in person? Connect with the Volato Concierge team to book your next mission.
Disclaimer: This post is intended for informational purposes only. Volato is not responsible for omissions or inaccuracies in such information, or for data that is no longer accurate due to delay, change in law, rules, or regulations.