The HondaJet is the light jet category leader for missions with up to four passengers, traveling up to three hours
The world's most advanced, comfortable luxury light jet
HondaJet's innovative design which features an over-the-wing engine mount unlocks a larger, quieter cabin and increases the aircraft's top speed. It is the farthest and highest-flying aircraft in its class, able to soar over weather and traffic while delivering the greatest fuel efficiency
Experience a level of luxury and comfort like no other light jet

Seats
Fastest Flying
Highest Flying
Farthest Flying
~1,000nm or 2.5 - 3 hours non-stop with passengers
Most Fuel Efficient
Save on costs and decrease your footprint
Sit back, stretch out, and relax
Settle into executive leather seats that both recline and extend, and enjoy more than seven feet of space between seats in the club configuration
Raising the bar for fuel efficiency
The HondaJet's modern engine flies higher, faster, and farther than similar aircraft while using less fuel, reducing CO₂ emissions and fuel cost
Be immersed in sound, not noise
The cabin of the aircraft features exceptional level of tranquility, thanks to improved acoustic treatments enhances both relaxation and productivity.
Custom-crafted for comfort
Many of our aircraft include a full galley for in-flight refreshments, including a coffee brewing system and curated artisan snacks
The lavatory features floor to ceiling doors for total privacy, includes automatic running water and two skylights
66 cubic feet of luggage space holds over 9 full-sized suitcases or 4 sets of golf clubs - the largest capacity in class
The Garmin flight deck features greater automation to lower pilot distraction and increase your safety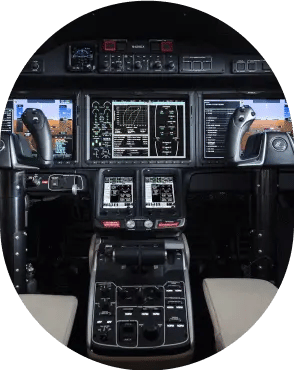 Contact a team member today for a casual conversation about Volato's innovative fractional ownership program.
Explore our innovative solutions
Contact our team today to learn more about our innovative jet share, jet
card, aircraft management, and charter programs.
Jet Share & Jet Card Inquiries